Kyle sent a separate written letter to the family.  In it he answered some of the questions we had asked previously.  Here are some of the answers.
"You asked if I had developed strong relationships with teachers and other people in my district and that is yes.  I am great friends with everyone in my district."
While playing basketball Kyle and Elder King had collided.  There was concern Elder King may have torn his MCL in his knee.  Nobody wants to be injured and possibly delay getting into the mission field.
"Elder King's knee was fine, he had to wear a brace for a while and couldn't play sports but now he can so it's all good."
Hermana Sandorf had injured her back.  Kyle and Elder Kimball were able to give her a blessing.  We had wondered how everything turned out.
"Hermana Sandorf is all healthy also.  The trainers said that it healed really fast, that's the work of the priesthood right there."
On being district leader.
"Being district leader is getting better.  I have to make sure we are all speaking as much spanish as possible.  We have this game where you have a rock and if the person with the rock hears someone speak english they pass it to them, so we are speaking a lot of spanish.  I have learned everything there is to know (grammar wise) in spanish so I could say anything I want if I know the vocab."
Kyle then goes on to ask…
"As for my sleeping bag… I still have no idea how I am going to get it to Argentina.  Any ideas?"
Finally he says…
"P.S. Tell Debbie thanks for the cheese balls, everyone loves them."
The picture shows what happens after nearly two months in the MTC.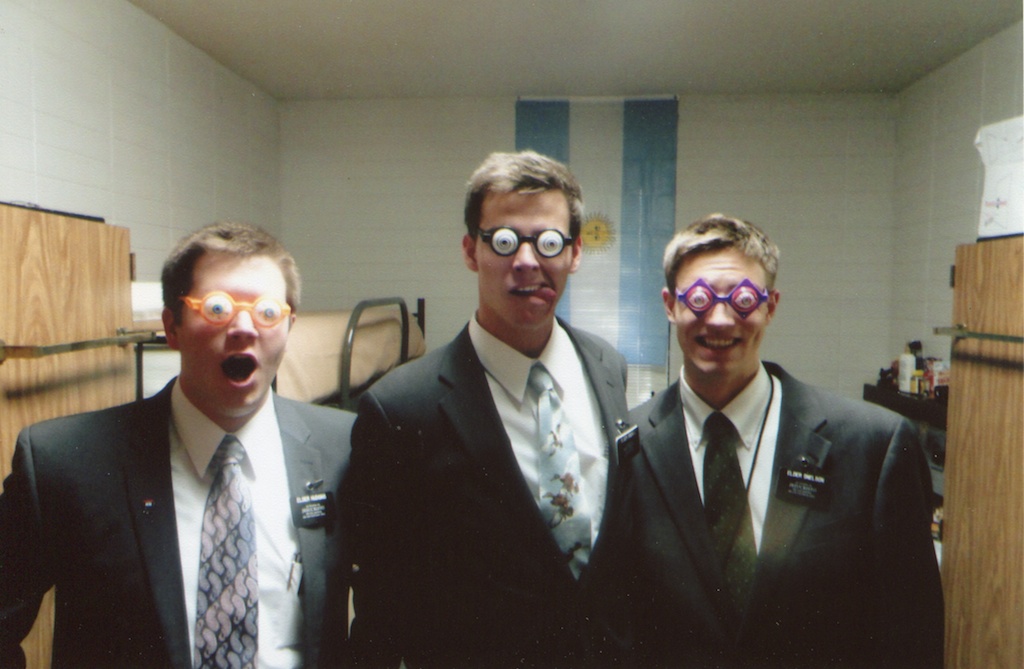 Elder Hudgins, Elder Kimball and Elder Snelson.