From: Kyle Hudgins <kyle.hudgins@myldsmail.net>
Subject: Hello family and friends!
Date: 1 Oct 2012 07:59:29 AM MDT
Well this week was pretty sweet. We had another baptism! Karen was baptized this week and it was a really good service. Karen comes from a less active family that has been inactive for about 10 years. The mom and one of her younger brothers (who is not a member) came to ther service and all had a great experience. The brother is a pretty cool kid. He said he liked the baptism a lot and he respected the decision of his sister so we will see what happens with that. The only problem is that he plays soccer on the weekends so that keeps him from coming to church. Hopefully we can work with the parents and get all the family active and baptized as well.
Well this week turned out to be a really hard one. But there were a few bright spots where the lord blessed us. We were able to find one of our investigators Omar. He is a really big guy who plays on a rugby team here in Trelew. He pretty much understands and agrees with everything that the missionaries have taught him. The only thing is that he has never prayed about it. But his last visit we were with him we made is a goal that we were not going to leave that house without him praying. So we were very persistant with him and finaly he gave in and said the prayer. He was a little nervous but he was able to get through it and he said he felt good doing it. So hopefully that will be a start for him in gaining a testimony and start the process of conversion with Omar.
The other one was with a couple Diana and Mario. They had been listening to the missionaries for a while but they stoped going by. So we went to check on them to see how they were doing. They let us in really warmly. We talked a lot about the families and gave them a copy of the proclamation to the family. We talked a little bit about family home evening as well and we asked them if they would like if we would do one with them. They said that they would love to so this week we are going to do something fun with them. Hopefully that will help get them going in the gospel.
Well today is Elder Stokes birthday so we are going to Puerto Madryn to celebrate so I don't have to much time. But I just want to give a shout out to Dad who is turning 50 years old this week! I hope it is a wonderful birthday! I love you all and hope you all have a wonderfull week!
Elder Kyle Hudgins
From: Kyle Hudgins <kyle.hudgins@myldsmail.net>
Subject: photos!
Date: 1 Oct 2012 08:18:16 AM MDT
So the first picture is of the baptism of Karen.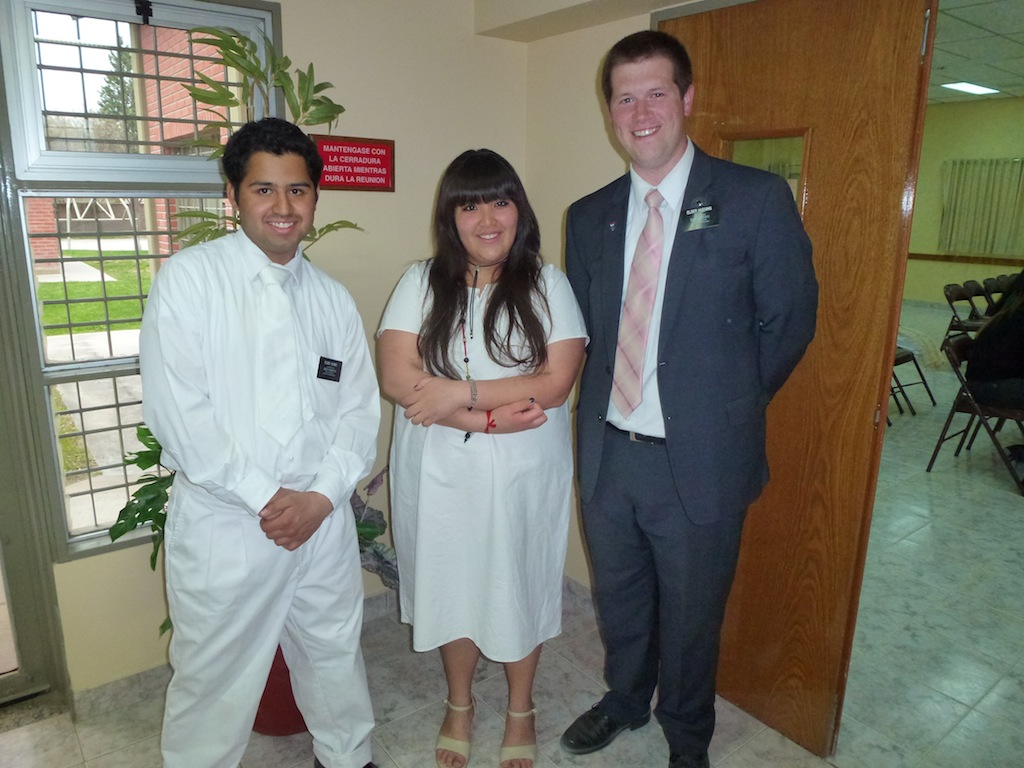 The other one I forgot to send last week but it is of my district in Rawson, Elder Hernandez, Me, Elder Menghini, Elder Yobanolo.