From: Kyle Hudgins <kyle.hudgins@myldsmail.net>
Subject: Hello family!
Date: 5 Nov 2012 08:31:38 AM MST
Hey family! Things are going well here in Argentina. It is really starting to heat up, it´s nice to here that you guys are getting some snow up there haha.
This week was a pretty good one. We had stake conference and we also had transfers. There weren´t many changes here in our district. Unfortunately the only one who is leaving is our zone leader Elder Heaps who is going to be the next assistant. So that was pretty sad. It was probably the best district I have ever been in. But it should be good because Elder Nance who was with me in Rawson is coming to be the new zone leader so I´m sure we will still have a great time.
So this week we were able to finally find Sebastian again. He moved and we weren´t able to find him for a while. But we finally got in contact with him and found his house. It was not easy to find his house either. Everywhere in Argentina there are like 5 houses behind the house that closest to the street so that makes it difficult. But we were able to teach him and his girlfriend and it was a really good lesson. His girlfriend doesn´t have very much religious background but she really liked the lesson. We weren´t able to have much time but we were able to bring the spirit while teaching the message of the restoration. It was awesome. So hopefully we can start teaching them more consitantly and get them going to church so they can progres toward baptism.
This week we were also able to talk to Federico. He is doing well and gave the final prayer in our lesson. He still hasn´t really thought about his own baptism but he recognizes the importance of baptism so thats good. He is still having a hard time coming to church because of futbol but hopefully he will be able to continue to feel the spirit and have desires to come.
So this week we had stake conference. It was really good but they talked a lot about eternal families and stuff which is not the best topic for a missionary to here but it was really good. I also saw Hna Ganga who was visting her daughter in Gaiman so that was awesome to see people from Trevelin. A sad thing is that they took out the missionaries in Trevelin. Its sad to hear but I think it will be for the best. I really loved those members there.
Well I hope you all have a wonderfull week full of great things to share with me next week! Love you all so much!
Elder Kyle Hudgins
From: Kyle Hudgins <kyle.hudgins@myldsmail.net>
Subject: Hello family!
Date: 5 Nov 2012 07:51:34 AM MST
This is a picture of our last district, and also a picture of our zone a couple p days ago, we went to Madryn and ate some choripanes.
Top row: Elder Lee, Elder Hudgins, Elder Stokes
Bottom row: Elder Heaps, Elder Ruano, Elder Wagstaff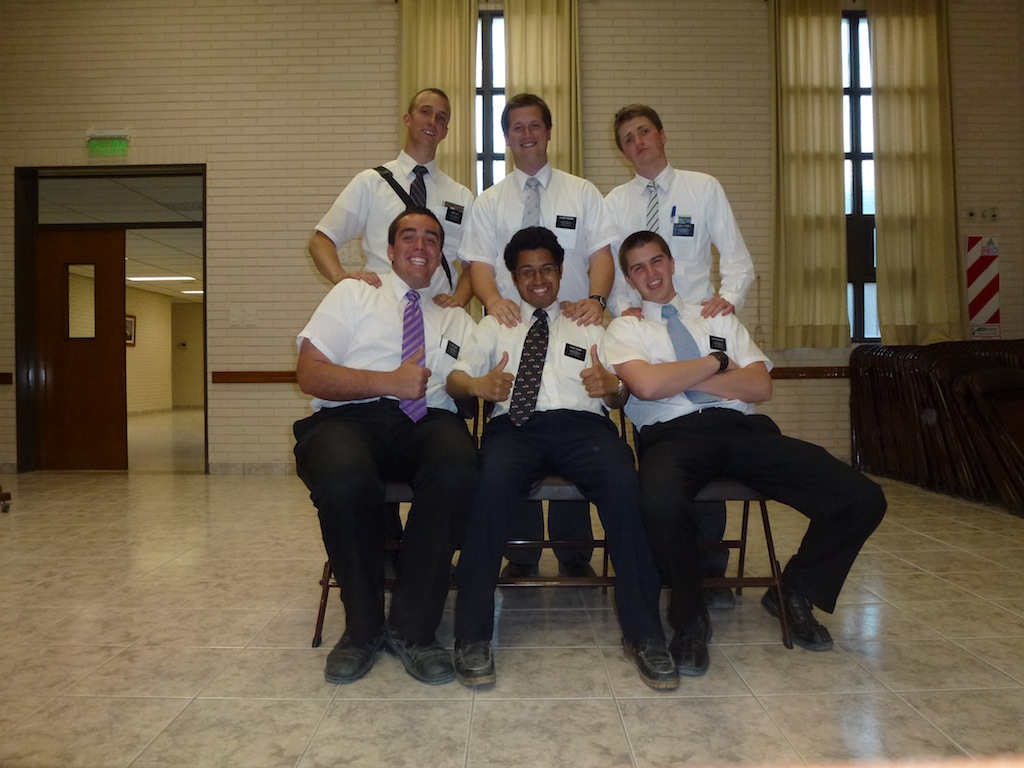 Top row: Elder Higgs, Elder Pace, Elder Hudgins, Elder Stokes, Elder Wagstaff, Elder Lee, Elder Lang.
Bottom row: Elder Heaps, Elder Ruano, Hna Gomar, Hna Ojeda, Elder Sangroni.