From: Kyle Hudgins <kyle.hudgins@myldsmail.net>
Subject: Hello Family!
Date: 7 Jan 2013 08:28:20 AM MST
Hello everyone back at home. Well I guess while you guys are suffering in the cold it has been really hot down here. I´m getting a nice tan so thats a plus. The work is still moving forward as well so thats really good.
So I´ll start with our new years celebrations. New Years eve we were with the Flia Lezana again. We had a good time eating some good asado and all that good stuff. We all had a good time together. New years day we got together with all the missionaries in Trelew and we all ate some tacos. We played some football and some card games as well. It was just a fun time to pass with all the other missionaries.
So this week we were blessed to find a sweet new investigator. Her name is Karen and we found her by knocking doors. She really doesn´t know much about religion and the bible which makes it very different teaching her. We tought the restoration and it was a sweet lesson. We could feel the spirit testify of the truthfulness of the message and she did as well and accepted a baptismal invitation for the 9 of feb. So hopefully we can continue teaching her and also start to teach her family.
So unfortunatly this week we weren´t able to find Omar or Fabian and Daniela to teach them a lesson. But we did talk to Daniela in the door for a little bit and she said that they both had been reading so thats awesome. HOpefully this week we can find them and start teaching them more and they can progress more.
Well I hope you all have a wonderfull week. To bad the vacations are already over with. They sure do go by fast. I love you all!
Elder Kyle Hudgins
From: Kyle Hudgins <kyle.hudgins@myldsmail.net>
Subject: Photos
Date: 7 Jan 2013 08:31:50 AM MST
This picture is of the medicine Elder Julcahuanca gave me. Its onion and sugar. I was pretty congested and took this at night and woke up and everything was gone. It worked wonders!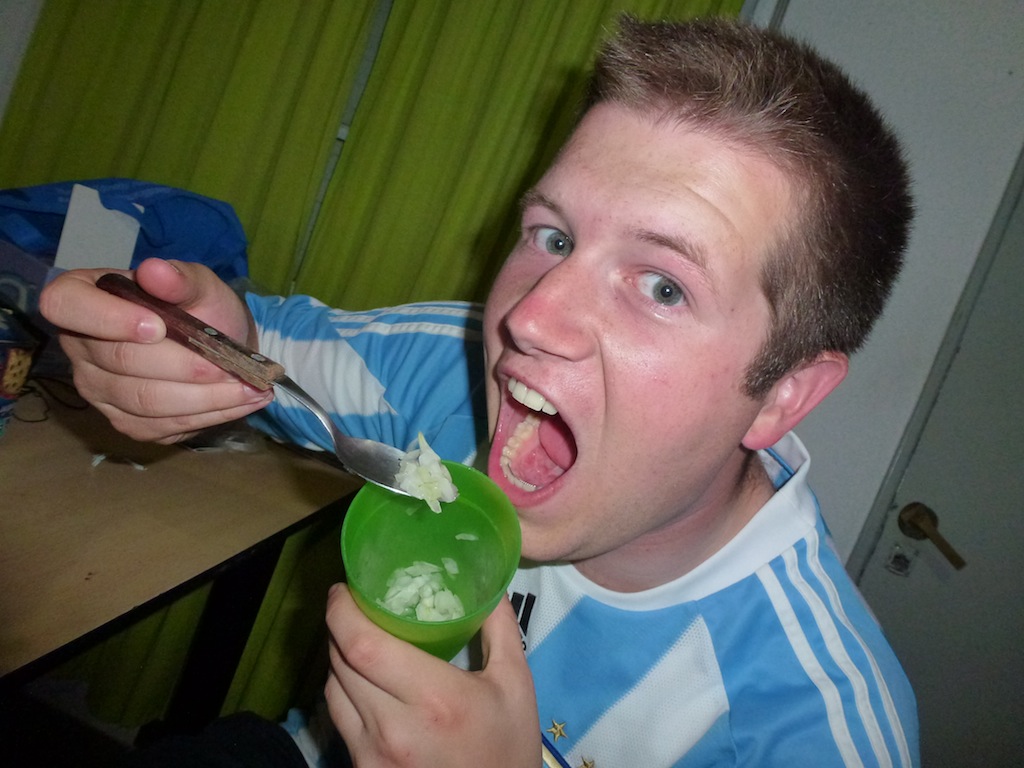 This picture is from New Years with Natalia, Ezequiel, Enzo and Maite Lezana.