From: Kyle Hudgins <kyle.hudgins@myldsmail.net>
Subject: The best week of my life!
Date: June 25, 2012 9:19:55 AM MDT
Oh my goodness what an amazing week we had here in Rawson! Can I hear you all say FAMILY BAPTISM! Yes that is was happened this week we completed a family and baptized more of that same family this week! Together with Elder Nance and Elder Minghini our small district of 4 Elders baptized 6 people this past Saturday! Yes 6 people and all from the Chemin family! Oh my goodness it was the best day ever it was amazing. I´ll start with what happened on Wednesday. We went over to Gustavoand Fernanda´s house to make sure that the date for Gustavo was set in stone for Saturday. We then focused our attention on Fernanda´s son Tomas who is 13 years old. He lives with them and has sat in on a lot of our lessons. He has told us that he wants to get baptized and has been keeping commitments but never really set it in stone. So on Wednesday we invited him to be baptized on Saturday. He told us that he didn´t know. He still wasn´t sure. We were a little dissapointed a when we left that we weren´t able to get him to commit. But in our next appointment, Fernanda called us. She told us that Tomas wanted to get baptized on Saturday! So that was awesome. We went over on Thursday to prepare him for his interview and passed with flying colors.
So also another miracle. On Thursday night we were thinking about Facundo. He is 8 years old and is Gustavo´s son from a previous marriage. He lives with his mom so we have never been able to teach him much. But we did give him a Book of Mormom with all the pictures ans stuff. He came to church last week and loved it. So on Thursday night we were praying that in some way, Facundo could be baptized along with the rest of his family. We didn´t really do anything to tell Fernanda and Gustavo. But when we showed up to the church for the interviews. Facundo was there! We decided to go ahead and let him be interviewed and he passed as well. So there are our three baptisms. All miracles!
So meanwhile, Elder Minghini and Elder Nance have been teaching the kids of Gustavo´s sister, (the granddaughters of Hno. Chemin) Florencia, Doloris, and Ludmila. On Wednesday night we talked with Elder Nance and Elder Minghini and we told them about Tomas. We told them to do every thing could so that they could be baptized on saturday. On Thursday we got the news that they all had been reading the Book of Mormon and were ready to be baptized on saturday. Another miracle.
So on June 23 we had a baptism of 6 of the Chemin family. Gustavo, Tomas, Facundo, Florencia, Doloris, and Ludmila. It was the best thing ever. Hno, Chemin baptized 4 of them. I´m sure he was happiest man on earth that day. It truly was an amazing experience that I will remember for the rest of my life. On Sunday all of them were confirmed as well which was also really special.
So while all this was going on we also got transfer calls on Saturday night. We got word that Elder Rivera and Elder Nance are leaving. Elder Nance is leaving for Comodoro and Elder Rivera to Plaza Huincul. It was kind of a sad moment becase all of us have become so close with the Chemin family. So the decided to through us a big going away asado last night. We all had a really awesome time. At the end the parents of Florencia, Doloris, and Ludmila (who hosted the asado and aren´t members) both gave their thanks to all of us. It was a really special moment. I can say that I have no doubt that those two will be baptized sometime in the future.
So with all that said I hope you can feel how awesome this week was and how much the Lord has helped us in the work. And also how much he has helped this family enter the gate to an eternal family. It is the best blessing our heavenly father can give us and I am so greatfull to help people receive that blessing.
I love you all and I hope you have a wonderful week!
Con cariño,
Elder Kyle Hudgins
From: Kyle Hudgins <kyle.hudgins@myldsmail.net>
Subject: pics
Date: June 25, 2012 9:31:06 AM MDT
Some pictures of the baptism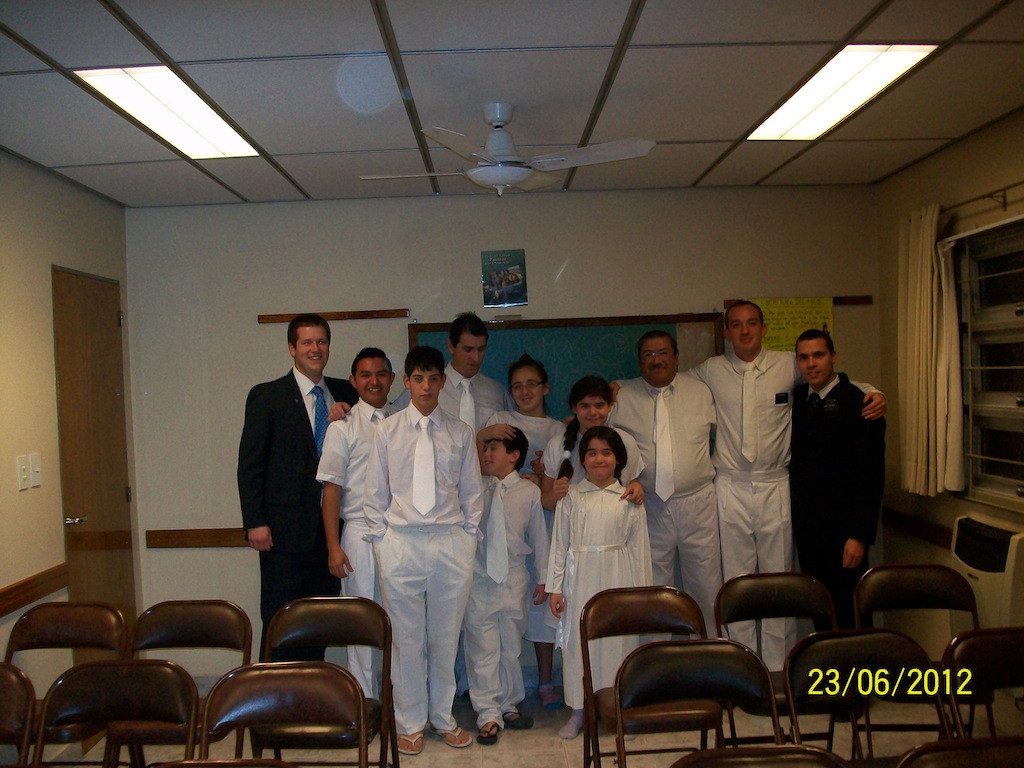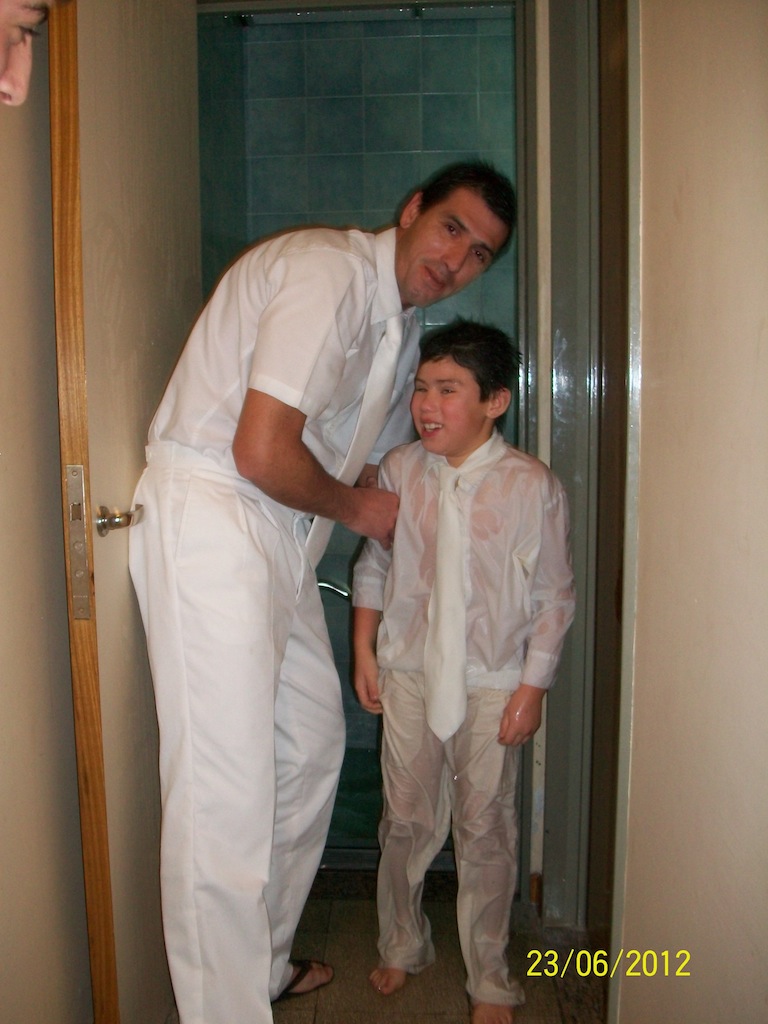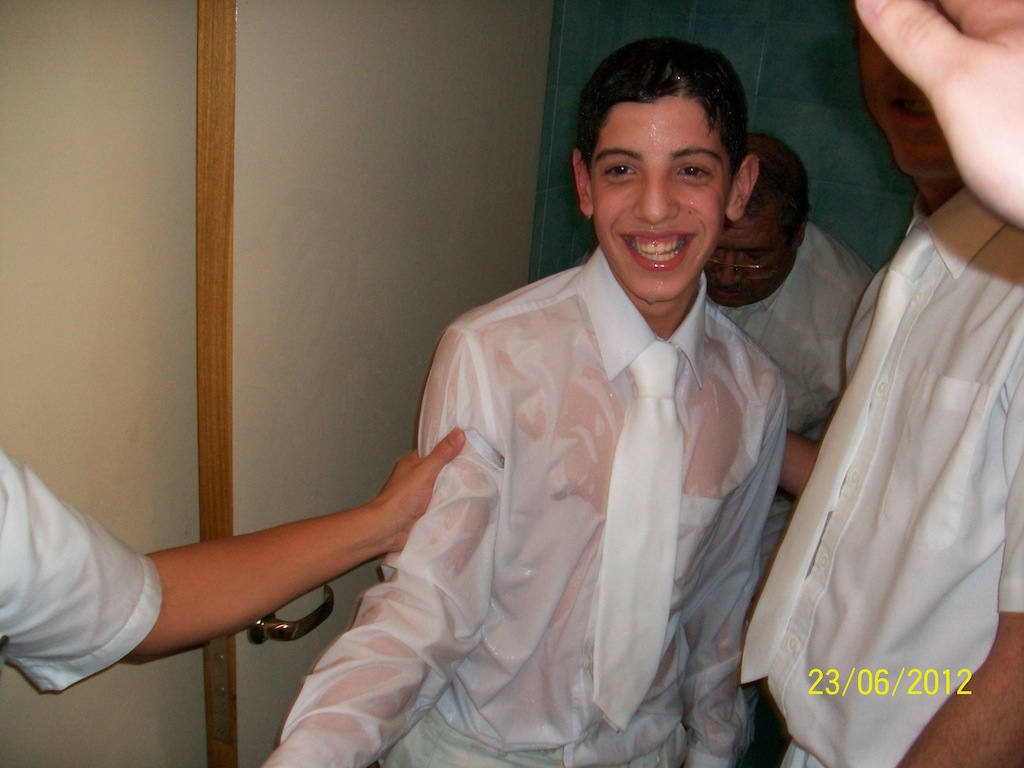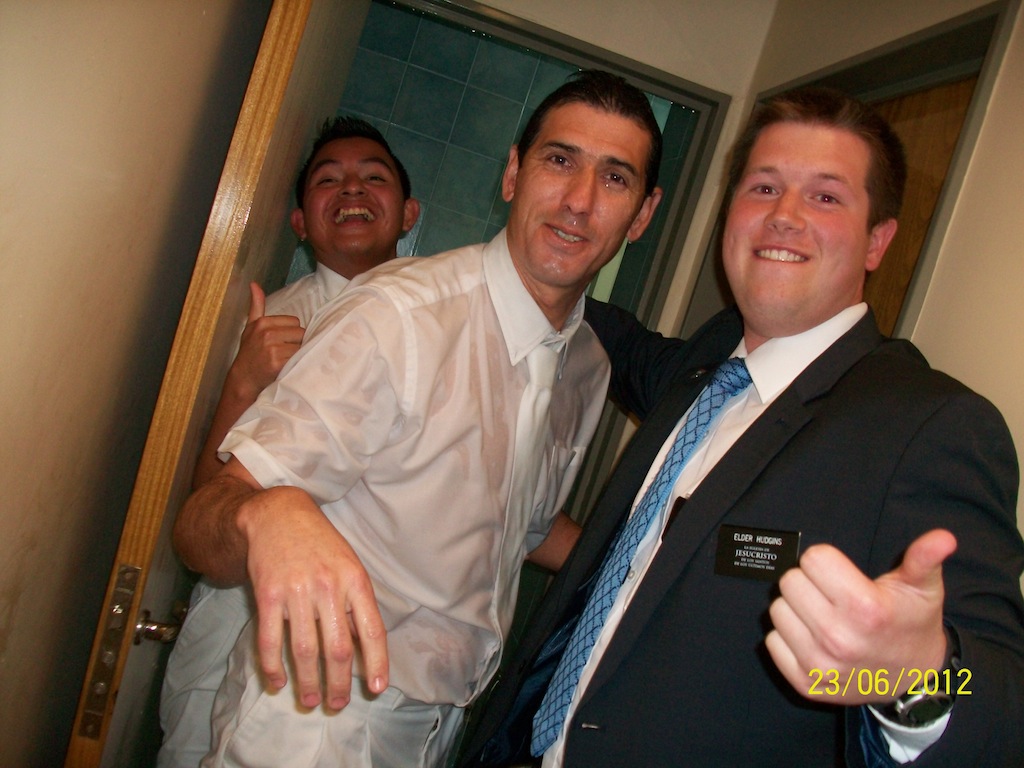 This is from the asado from last night.